If you've ever considered a page ranking at the top of Google to be "lucky," think again. For any such lucky duck, majestically perched at the top of the SERP, you can rest assured there's a host of legwork going on beneath the surface to make this possible.
Advertisements
Said legwork is called SEO, but once you get the hang of it, it becomes like second nature. So in this guide, I'm going to turn the complex process of on-page SEO into a step-by-step, visual guide to make this possible for you.
Ready to start ranking higher and get more traffic to your website?
Quack 🦆
Just as the name sounds, on-page SEO refers to the optimizations you make to a specific page on your website to get it to rank higher on the SERP for queries related to the keyword it's targeting. Some of those optimizations are visible on the page itself while others are behind the scenes. This, of course, translates to more relevant traffic to that page, and the more pages optimized on your website, the stronger your SEO muscles become.
On-page vs off-page SEO
To understand the difference between on-page and off-page SEO, it's best to go back to the SEO basics. There are three core types of SEO:
While the overlapping circles look nice, they're presented that way because these efforts are all interconnected. For example, you're not going to get backlinks (off-page) if your page content isn't quality (on-page), and compressing images (on-page) helps with page speed (technical).
On-page SEO checklist
In the rest of this post, you're going to learn how to do on-page SEO like never before. But like I said, it's a hefty hustle, so here's the bird's eye view of your on-page SEO checklist:
1. Keyword research
First and foremost, do your keyword research. You can't do any of the steps in this post if you don't know what keyword you're targeting. We show you how to do keyword research here, but here are a few tips: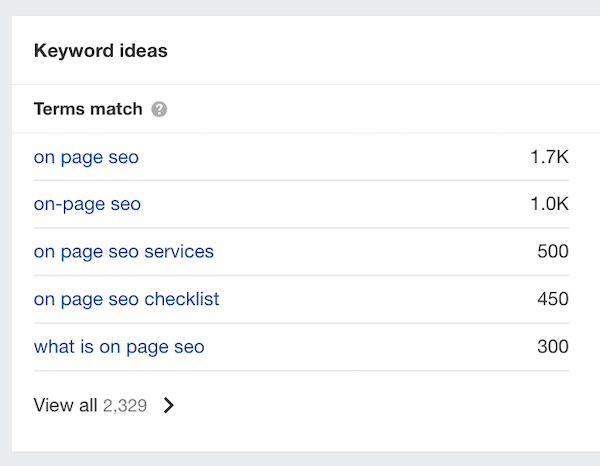 2. Content quality
Google defines thin content as inauthentic and providing little value—like auto-generated copy, thin affiliate pages, scraped content, and doorway pages.
But just because your page doesn't fit the above criteria doesn't mean your content isn't thin. The important word above is "value." If you want your page to rank for the keyword it's targeting, it needs to be:
121 words of empty-calorie robotic fluff with no nutritional value
vs
44 words of protein-packed peanut butter
3. Keyword placement
Now if you're writing quality content like a human, the keyword and related LSI keywords will occur naturally in the body of the text. But there are some places where you need to intentionally place your target keyword. These include:
If you were confused by the above list, don't worry—the rest of this guide will dive deeper into each one.
4. Images
Images on their own are an on-page optimization since they keep readers engaged with a page, and time on page factors into ranking. But there's more to images on a page than meets the eye. Here is your image optimization checklist:
Here's what alt text, file name, file size, and dimensions look like in WordPress.
In the image at the top of this post, I optimized for the keyword "on-page vs off-page SEO." My alt text reads "comparison of on-page vs off-page vs technical SEO," my file name is "technical-vs-on-page-vs-off-page-seo.png, and I've both compressed and resized the image.
5. Title
There are two different titles for any given web page on a website:
Your title tag and H1 tag don't have to be different, but it's good to know you have this option. Regardless, a strong headline is a must for on-page SEO since it impacts whether or not users click through to your page. A strong headline:
Short, SERP-friendly title tag on the left; longer, more brand voicey H1 title on the right (and a post that delivers on its promise).
6. Headings
Headings are used to organize the information on your page into clear sections and subsections. These convey to readers the hierarchy of the page, but Google needs to know that too in order to understand its relevance to the keyword you're targeting. But it can't identify headings based on font size and weight of font like we can. Instead, Google sees in HTML.
There are six types of heading tags. If you're using a CMS like WordPress, SquareSpace, etc., you'll see a drop-down menu of heading tags in your editor (you can customize the sizes of these headings as well), but you can also manually apply them in the HTML code.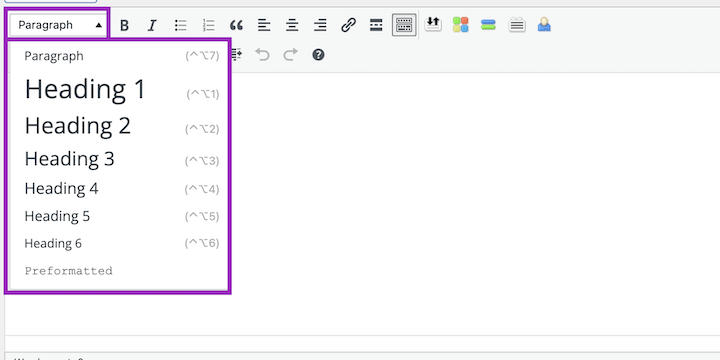 Heading tags also enable Google to surface your page in results for more specific queries related to the page, allowing you more opportunities to appear on the first page of Google. The biggest thing to remember with headings is to make sure they're descriptive. A reader should be able to get the gist of the page just by skimming the headings.
7. Meta description
The meta description is the description of your page that appears under the title on the SERP. Consider it the ad for your page, as a well-written meta description tells searchers your post will answer their query and gets them to click. Here's your meta description checklist:
Google won't always use the meta description you've provided. It dynamically creates them from your content based on the query—which is why it's important to have those heading tags in there. Keep in mind also that the meta description also appears in preview snippets, like the ones you see on social media.
Most, if not all CMSs generate an automatic URL for your page—sometimes the title you've given it or sometimes a string of numbers. You'll want to edit this URL to:
Had this URL been https://localiq.com/post-2844, would you have trusted it enough to click it?
9. Links
There are two types of links involved in on-page SEO—internal links and external links (also called backlinks). We shares some great intel on linking in this 10-step SEO audit, but here are the basics.
External links
These are the links on your page that take users to other domains. An on-page SEO best practice is to link out to pages on the topic from websites with high domain authority. This helps Google to trust your page more. In his SEO techniques post, Brian Dean recommends linking out to at least 3 high-quality domains
Internal links
These are the links on your page that take the reader to other pages on your site. Your page should not only include internal links, but other pages on your site should link to the one you're optimizing.
For any case with linking, the anchor text should be specific to the page you're linking to and contain the keyword it's targeting. Not only does this make for a better user experience, but the more links to your page that use the keyword as the anchor text, the better your chances of ranking.
10. A *few* technical optimizations
I know, I know, this is not a technical SEO checklist, but like I said earlier, the different types of SEO are interconnected. Below are some things that should already be in place, but sometimes have glitches so they're easy troubleshooting if your page is not performing as well as you expected.
11. Content freshness
The importance of content freshness can vary depending on the query, but it's important to periodically update any page you want to rank to preserve its value. I have a complete content refresh checklist here, but for a sneak peek, here are some updates you can make:
Free on-page SEO checkers
As you can now see, a page ranking at the top of Google isn't just effortlessly streaming along. There's a lot of work that goes into it, and this is for every page on your site. Luckily, there are on-page SEO checkers to help you out.
Use the free LOCALiQ Website Grader to get a report like this for your website.
On-page SEO templates
To make your life easier, I have a few templates for you.
On-page SEO checklist template
The first is the checklist template that you can customize to your liking. You can print it out or make a copy of the Google Doc to use when publishing pages or running content audits.
I've created a series of blog post templates that will help you to create quality content optimized around the keyword you're targeting. Here's just one example:
Get more website traffic with on-point on-page SEO
Now can you see why on-page SEO is that below-the-surface hustle? There is a lot of legwork that goes into it. But the more you do it, the easier it gets—and the more traffic you'll get to your website. To recap, here's how to do on-page SEO:
This content was originally published here.