BlueHost,an oldest player (13 years!) in the hosting industry and is mostly popular as a premium WordPress Hosting provider on Linux platform.
Advertisements
WordPress.org recommends BlueHost as their official hosting partner and BlueHost mostly pitches WordPress Hosting Plans. That's a clear win- win situation for both WordPress and BlueHost
But what about a customer who wants to host their site in BlueHost?
Is it worth the hype of being known as a reputable brand and its promises on outstanding support, speed and flexibility?
Read my detailed BlueHost Hosting review (that's how you know!) about BlueHost inside out.
BlueHost Hosting Plans: Quick Overview
BlueHost provides flexible hosting options at every level. Shared, VPS, Dedicated and Managed WordPress. Let's have a quick look into all of them.
Affordable starting price of $3.49 per month. You can host a single website for 50GB space.
If you look at the screenshot below, you will find all features to be very standard and not much additional features.
So, BlueHost basic keeps features limited at this level. You get for what you pay.
Buying BlueHost Plus looks like a bargain deal at $5.95 per month.
You can host up to 10 websites, plus $150 ad credits, Global CDN, 1 Spam Experts. 100 email accounts and 500MB per account email storage looks fair enough to me.
Just apt for someone who is looking for unlimited features but willing to pay extra bucks (priced at $13.95 per month).
Everything is unlimited here and loads of extras (SiteBackup pro is included, 1 SSL certificate, 2 Spam Experts,1 dedicated IP,1 Domain Privacy) plus $300 ad credits.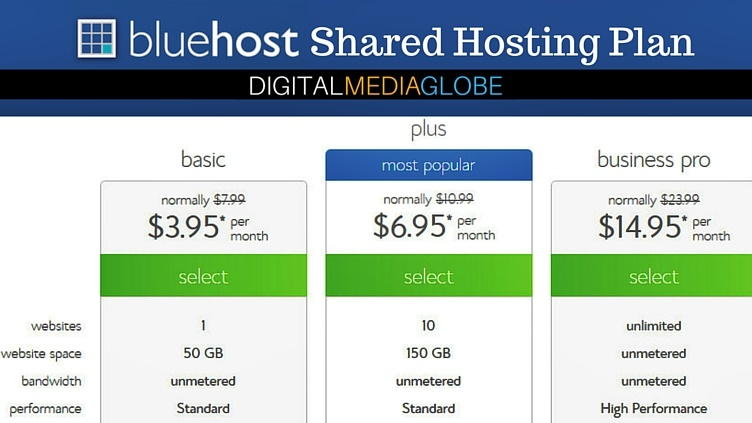 BlueHost is popular in their managed WordPress hosting department.
Really good for those who have websites with very good traffic and who needs special attention for that.
Below screenshot will give you a fair idea of which one to choose.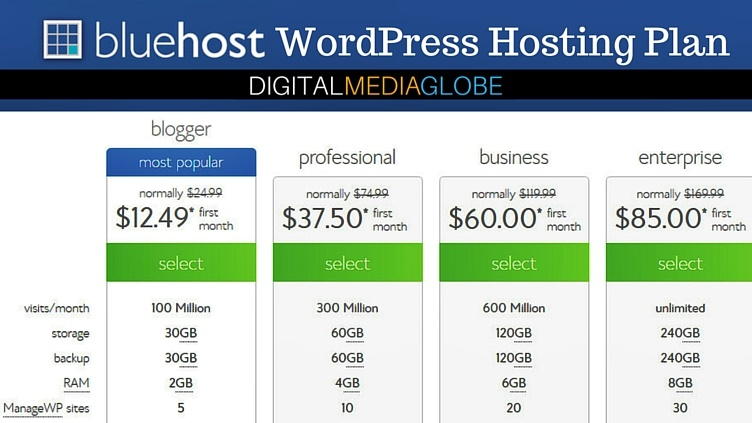 BlueHost boasts as a next generation VPS hosting.
Shared hosting has its own limitation when you have a big firm to run and you may need a VPS hosting to host your business with more power and flexibility.
BlueHost uses OpenStack and WPM (Linux based) technology for powerful performance. They have an in house VPS support for all your queries.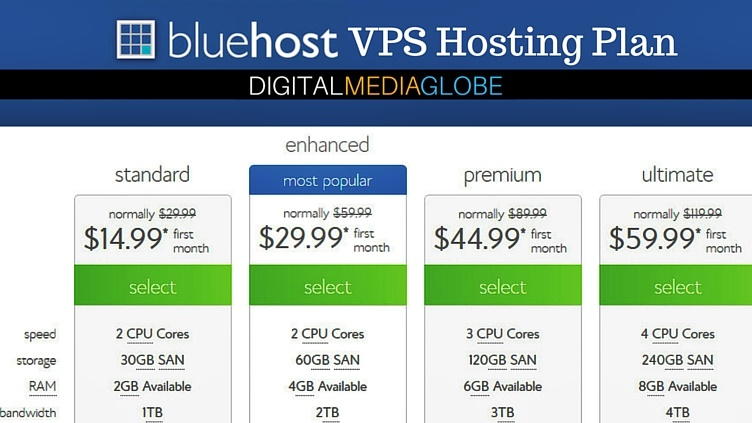 A big Ecommerce website or A-List websites which has million visitors daily would love to have a host which will not compromise on website quality, security and uptime.
BlueHost dedicated server has three plans: Standard, Enhance and Premium.
Impressive Features of BlueHost:
Control panel is typically the place where you are going to manage your entire website.
BlueHost does a pretty good job with a very good cPanel. The GUI of BlueHost cPanel is pure common sense (Smooth Back-end) and is uncluttered.
You will also find lots of educational information on how to use. Nobody misses the big green tab signaling WordPress Installation (so easy to locate).
It is currently one of the most user friendly cPanel (with multiple website builders and templates) than any of its counterparts. The cPanel scores high on usage in the long run.
BlueHost comes with a wide array of built in features which comes handy in a new website setup.
The extra features are:
BlueHost makes it easy to install CDN (Content delivery network). You can find the CloudFlare icon in cPanel.
All you have to do is to enable the cloudfare service option and Bluehost intergrates your account to CloudFare on your behalf.
You can easily install most of the content management systems apps such as WordPress, Jhoomla, Drupal etc, through simple scripts (now known as MOJO marketplace) using this BlueHost Feature.
Easy to set up your email account, FTP accounts or an alternative file manager (if you don't want FTP Client) and phpMyAdmin for database management.
The Weebly website builder has the standard drag and drop website builder to build your website.
It is basically a product of Weebly Inc. But BlueHost gives you free along with their professional web hosting Plan.
goMobi is a website builder, designed to provide mobile responsive websites. It is best suited for mobile based web hosting.
It is an add-on feature that comes with BlueHost hosting services.
They have language preferences option, custom error setting, in built add on such as Spam Hammer.
Having your website running in a hosted server without any problems is a rarest of rare case.
BlueHost has a great customer support system with an overall excellent customer support rating. They provide fast and quick support solutions (because of the specialized team).
They maintain the general standards of 24/7 support via e-mail, phone and chat. Who else is going to come for your rescue other than the support guys and the BlueHost web hosting review give big thumbs up to the CSR of BlueHost.

You have an easy one click installation button (where tools like Woo Commerce and ManageWP are pre installed) if you already have a WP site and you are online in minutes.
Also, if you're okay to shell money on migration services, then sit back and relax, as BlueHost team will do that for you.
The SiteLock feature that comes free with Managed WordPress hosting is an advance security option from BlueHost and is necessary if you are running Ecommerce website. SSL certificate is also added in most plans to ensure smooth connections.
BlueHost impresses you with a full on in house services. Nothing is outsourced.
All severs are in-built with specialized teams. So it makes me to believe that their tech support team would be rock solid in knowledge.
Other Features of BlueHost:
BlueHost makes your website setup easy if you are using a WordPress. You will find the 1-click install icon in the cPanel and you can literally install your WordPress within minutes through MOJO marketplace.
Another freebie from BlueHost (not available with their basic plan). Depending on the plan, you have a predefined dollar amount as Google AdWords credits.
You receive a free domain name (as long as you use their hosting) once you purchased their hosting plans.
A standard feature that every hosting companies follow. Not interested, you get your money back for the rest of the months! Remember, you get refund only on hosting amount, not on paid services like SiteLock, Backup Services, SEO services to name a few!
Downsides of BlueHost
BlueHost swears on its website a 99% Uptime guarantee. Their guarantee works only with their shared hosting plans for relatively smaller websites.
But once your site started scaling up with more visits and you upgrade to their higher plans, you would be disappointed. There is a 50% chance of your website facing downtime issues. Lucky are some who have no uptime issues with BlueHost.
BlueHost has revised their renewal rates with a blatant 25% increase. Not a good news though! Better signup for 2 years or 3 years plan (if you can ready to be committed with BlueHost) than to spend extra bucks for renewal.
If you thinking of investing in BlueHost on a monthly basis, you would be disappointed. The minimum billing cycle is 12 months and you have to pay upfront annually (12 months)
You need to pay them a whopping $149.99 for migration services provided by BlueHost (up to 5 websites and 20 email accounts) .
Currently they have no migration facilities for higher level hosting plans other than shared hosting plans.
Why should you opt for BlueHost?
BlueHost is a safe bet when it comes to popular WordPress hosting as they have a huge number (in millions) websites hosted with them.
If BlueHost can seriously work on their uptime aspect for higher hosting plans, they would reign in the hosting world. They got the experience and reputation, just need to focus more on core issues (server performance) other than just the business aspect of extra features and promotions.
Overall, BlueHost scores as a reasonable hosting provider (Especially if you talk about WordPress Hosting).
I would recommend giving it a shot to any shared hosting plans of BlueHost. You won't regret much.
Read my Godaddy and Interserver review here if you are looking for solid uptime.
This content was originally published here.